You probably want to design all of your pages using TheElementor page builder, except blog posts. It's unbelievably easy, not any other theme!
Edit with Elementor
To edit a page with Elementor (e.g. homepage), go to pages list, find the page named "Home" and click edit link. In the edit page, clear default value inside the WordPress editor and click update button. Then press "Edit with Elementor" button to open Elementor Page Builder.

The Elementor page builder will open in another window. You can simply drag and drop blocks from left side to the right side! So easy!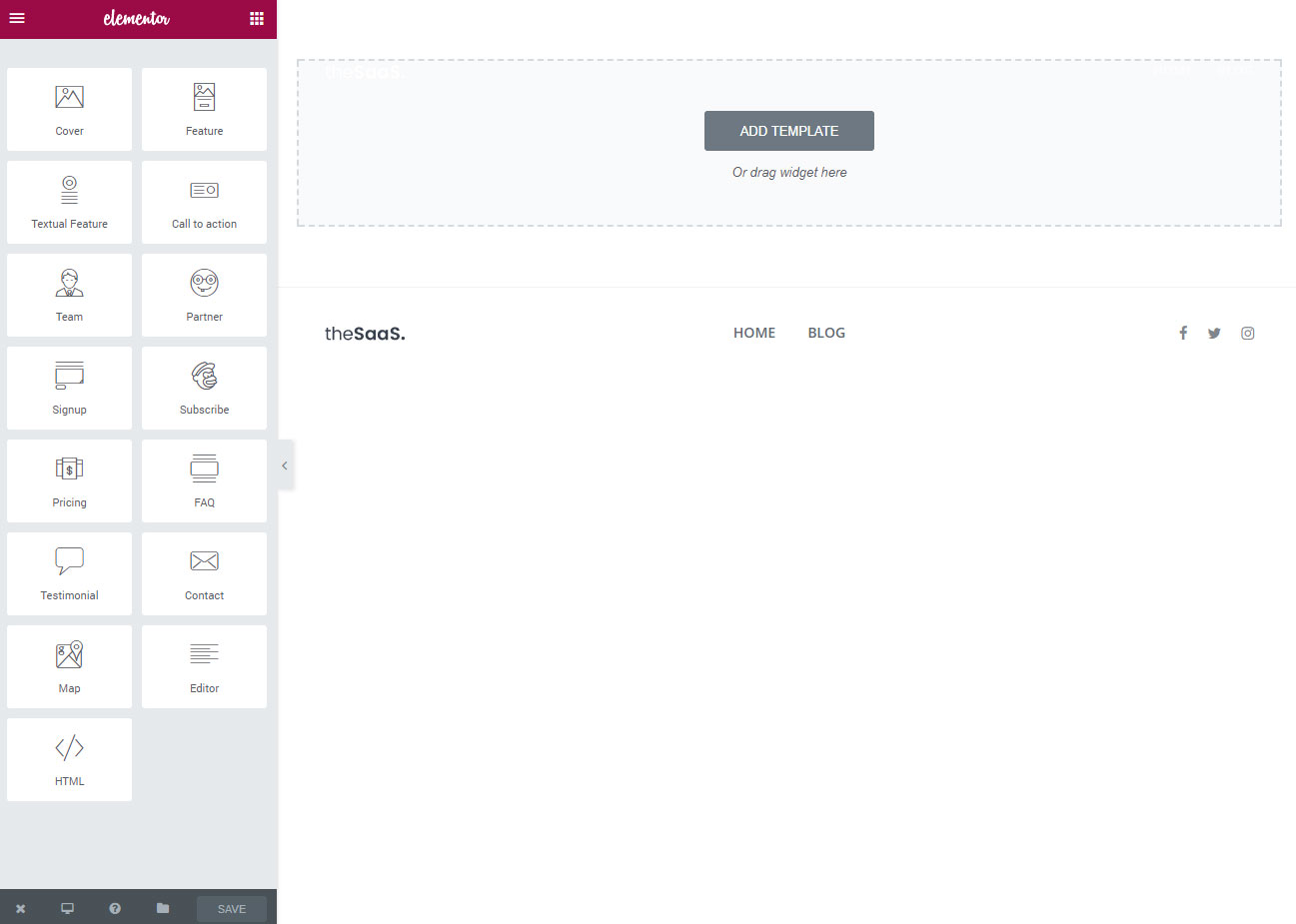 Drag and Drop Blocks
As you can see, several blocks are ready to insert into your page. You can develop a page in 20 minutes without writing a line of code! Just drag and drop a block type from left side to the right side, choose a variation of the block, and modify values.
As you can see in the following page, we added a Cover block to the right side. We can change the variation from left side. Right now, 10 different variation for Cover blocks is available.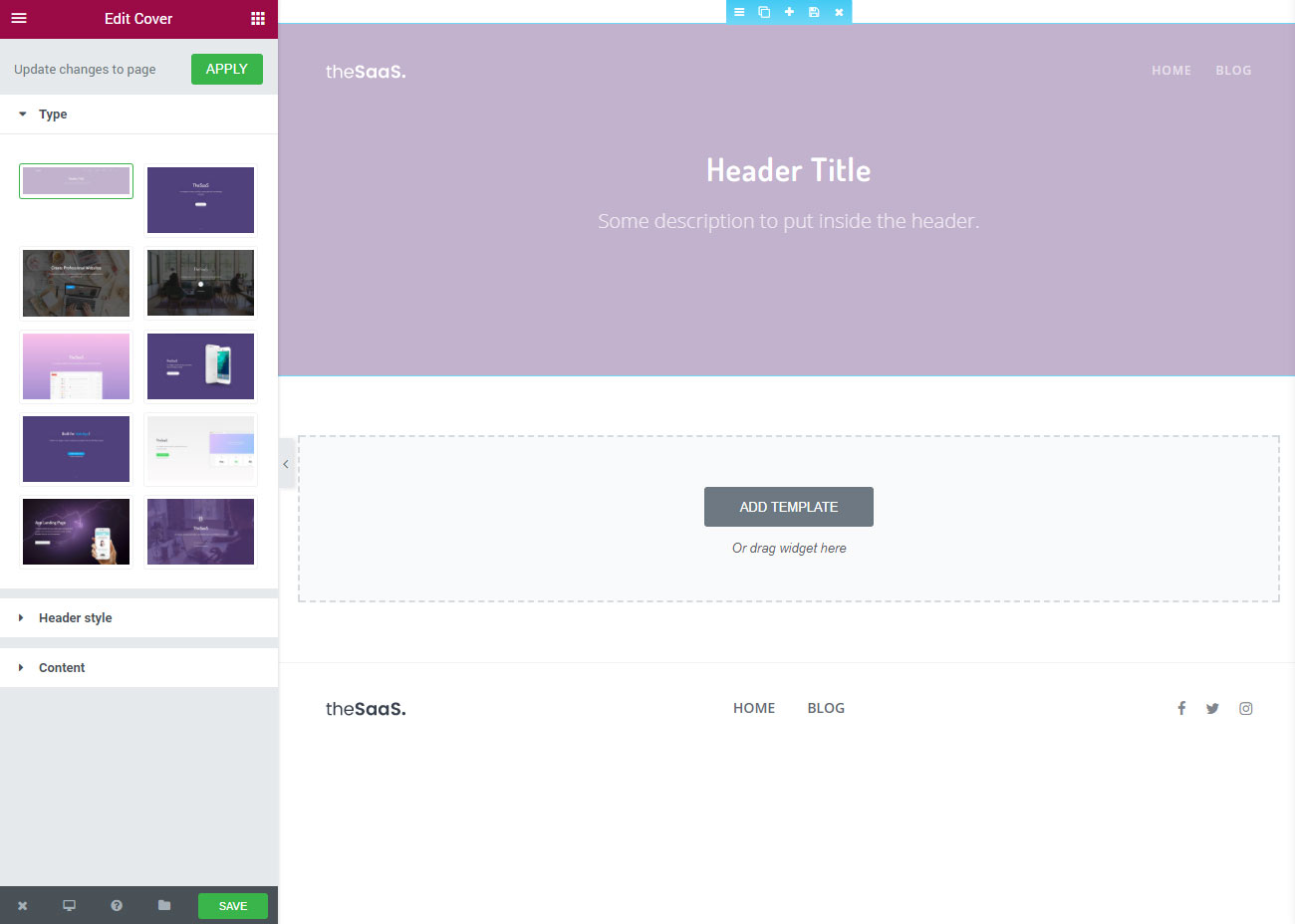 If you click on the "Header style" tab, you can make a lot of different modification to the style or click on "Content" tab to modify the content.


Add Template
TheSaaS includes several predesigned pages such as pricing, about, contact, FAQ, etc. as well as several homepage demo such as Gmail, Skype, Trello, etc. You can insert them into your page with only two clicks!
From Elementor editor page, click on Add Template button. A modal dialog will open upon click. Click on Insert button to insert the predesigned template into your page.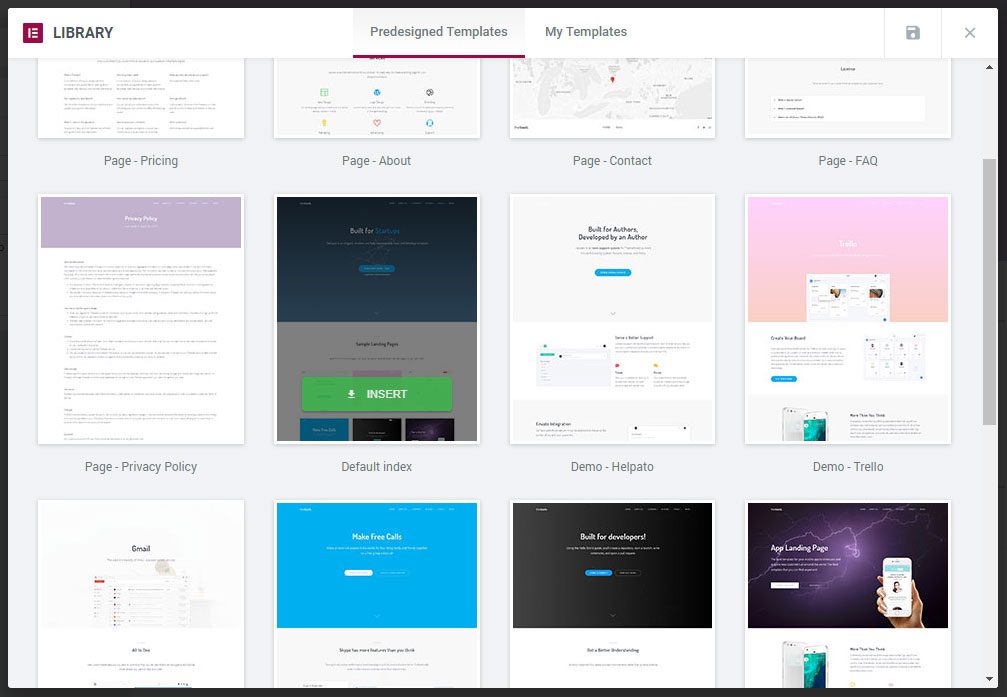 Page Settings
By default, your topbar is sticky and light colored. It includes your logo and assigned topbar menu. You can access to "Topbar settings" by clicking on the bars on top left side of the Elementor: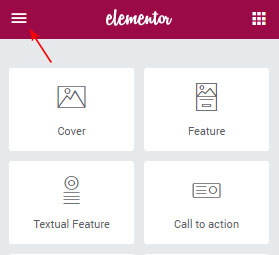 In the new view click on "Page Settings", and then, click on "Topbar settings".
Here you have all the option to change the default menu, change it's behavior, or include buttons in the top right side of the topbar. You can remove the topbar navigation if you set the "Menu" option value to None.
Please note that you can't see those changes affected until you reload the page.