All of the following configurations are inside the Customizer. You can open Customizer by clicking on Appearance > Customize menu.
Site Identity
Upload your logos, set a color for default background color of pages which don't use Elementor for creating content, change site title, tagline and site icon from here.
Site Configuration
Google Map: If you're planning to have a map, you should get a Google Map API Key
Google Analytics: If you want to track your page views using Google analytics service, provide your Tracking ID which is a value in format of UA-12345678-9
Menus
This template supports two locations for custom WordPress menu:
Topbar Menu: A menu with 2 levels to place above the page.




Footer Menu: A menu with 1 level to place at bottom of the page.



For menu setup, navigate to the Appearance > Menus page. Enter a name for your menu and add links to the menu by using the options given on the left sidebar. You can manage your menus using the drag and drop functionality.
After setting up your menu, select the menu you just created from the theme locations drop-down box and hit the "Save" button.
Static front page
If you correctly followed the theme installation and activation, TheSaaS has automatically set this values. By default, it create two pages:
Home: The front page of your website. You should use TheElementor to create content for this page.
Blog: This is the post pages. It displays the latest posts from your blog. You don't need to modify this page at all.
To make sure this pages has created, click on Static Front Page. Make sure the inputs has following values:
Front page displays: A static page.
Front page: Home. If it's not, click "Add New Page" and create a page with this name.
Posts page: Blog. If it's not, click "Add New Page" and create a page with this name.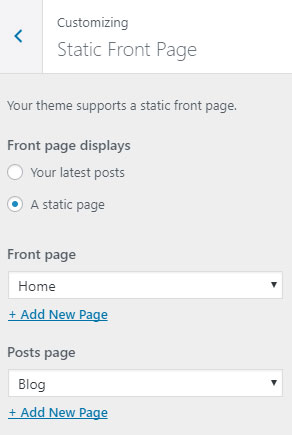 Social Icons
Here you can choose which social icons should be visible in the footer of your site. Just insert full URL to your social pages and leave other fields empty if you don't want to display that social icon.

Better Permalinks
If you prefer to have a nicer permalinks such as www.domain.com/blog instead of www.blog.com/?p=123, open Settings > Permalinks in the admin area and select "Day and name" or "Month and name" instead of "Plain".